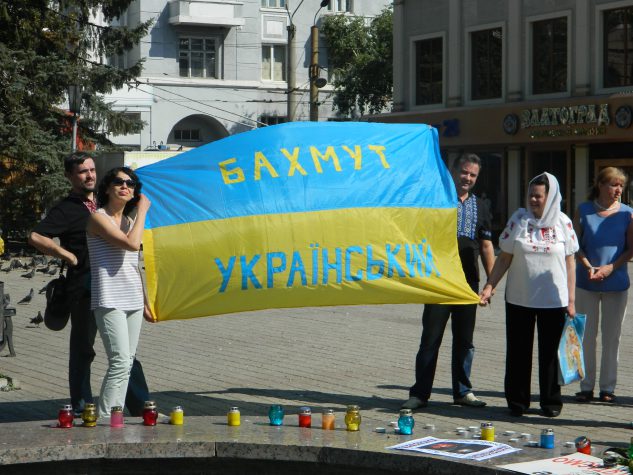 About us
"Bahmut the Ukrainian" NGO started as a volunteering group in spring 2014 when our town, Bahmut (from 1924 to 2015 known as "Artemivsk"), faced first public disturbances, met illegal armed groups and welcomed first refugees. In the beginning our group consisted of several local residents who refused to accept the concept of living in the "Russian World" and who made efforts to enforce the law and bring back peace to the town. Now our organization consists of over 50 activists and several hundred volunteers.
Our main activities are the following:
support of Ukrainian military units;
making of camouflage nets and ghillie suits;
visiting and taking care of the wounded and ill Ukrainian soldiers in the town hospitals;
helping the refugee children;
initiating of cultural projects promoting Ukrainian national idea in Bakhmut;
public involvement in solving of the local problems.
Реквізити
Юридична та адреса для листування: 84500, Донецька область, місто Бахмут, вул. Торгова, 6, к. 309.
Кому: Громадська організація «Бахмут Український»
Банківські реквізити:     
БАХМУТ УКРАЇНСЬКИЙ ГО, ЄДРПОУ 39441282
АТ КБ "ПРИВАТБАНК", ЄДРПОУ 14360570
БАХМУТСЬКЕ ВIДДIЛЕННЯ КРАМАТОРСЬКОЇ ФIЛIЇ
ПОТОЧНИЙ РАХУНОК: №UA373355480000026009053607895, валюта UAH/980
ПРИЗНАЧЕННЯ ПЛАТЕЖУ: «Благодійна пожертва на статутну діяльність ГО «Бахмут Український».
Договір публічної оферти: https://bahmutukr.org/public-offer
Угода про конфіденційність: https://bahmutukr.org/privacy-policy